Grilled Fish Burrito
A fish burrito is a type of burrito that often comprises a filling of cooked, typically seasoned fish, as well as rice, beans, lettuce, salsa, cheese, and avocado, all wrapped in a flour tortilla. The fish used might vary, although cod, salmon, and shrimp are frequent. Fish burritos are a popular dish in Mexican and Tex-Mex cuisine, as well as in numerous fast-food chains and informal restaurants specializing in burritos and other Mexican-inspired foods.
Fish burritos are a popular option for seafood lovers who desire a nutritious, protein-rich dinner. They are typically prepared with fish that has been grilled or baked, which is a healthier cooking method than deep-frying. Some versions additionally incorporate a creamy sauce or dressing, such as chipotle mayonnaise or lime crema, which gives the tortilla more taste and texture.
In addition to being a delicious and filling lunch, fish burritos can also be a nutritious option. Fish is an excellent source of omega-3 fatty acids, which are needed for heart health, as well as protein, vitamins, and minerals. Fish burritos can be a well-balanced and nutritious dinner when coupled with additional components such as beans and veggies.
Also, fish burritos are versatile dishes that can be adapted to individual tastes and preferences. For example, you can create a distinct flavor profile by using different types of fish, adjusting the quantity of heat, or adding your favorite toppings. To accommodate dietary restrictions or preferences, they can also be cooked using different kinds of tortillas, such as whole wheat or corn.
Here's a simple recipe for a fish burrito that you can try at home:
Ingredients:
1 lb. white fish fillets (such as cod or tilapia)
1 tbsp. olive oil
1 tsp. chili powder
1/2 tsp. cumin
Salt and pepper to taste
4 large flour tortillas
1 cup cooked rice
1 cup black beans, drained and rinsed
1 cup shredded lettuce
1/2 cup diced tomatoes
1/4 cup chopped fresh cilantro
1/4 cup diced red onion
Lime wedges for serving
For the sauce:
1/2 cup sour cream
1 tbsp. lime juice
1 tsp. chipotle pepper sauce
Instructions:
Preheat the oven to 375 degrees Fahrenheit.
Fish fillets should be placed on a baking pan coated with parchment paper. Drizzle olive oil and sprinkle chili powder, cumin, salt, and pepper on the vegetables.
Fish should be baked in a preheated oven for 15 to 20 minutes, or until flaky and cooked through.
Prepare the sauce by whisking together the sour cream, lime juice, and chipotle pepper sauce in a small bowl while the fish is frying. Put aside.
The tortillas can be heated in the oven or microwave.
Place a tortilla on a platter and spoon cooked rice, black beans, shredded lettuce, sliced tomatoes, cilantro, and red onion down the center of the tortilla to assemble the burritos.
Put a cooked piece of fish on top of the vegetables.
Spread the chipotle sauce over the fish.
Fold the sides of the tortilla in, then securely roll the burrito.
Serve the fish burritos beside lime wedges.
Enjoy your tasty and healthy fish tortilla!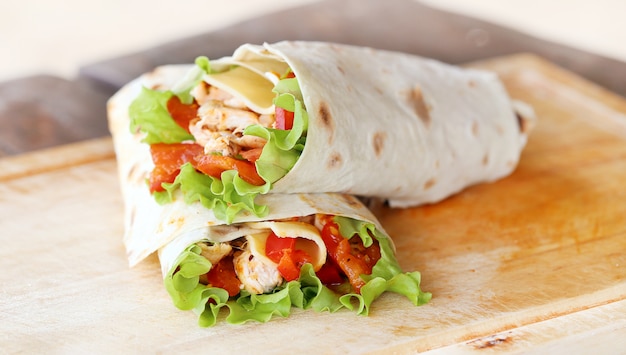 Here are some additional tips and variations to consider when making fish burritos:
If you do not have any white fish on hand, you can substitute salmon, shrimp, or mahi-mahi.
You can add crumbled tortilla chips or sliced radishes to your burrito to give it additional crunch.
If you want to make your burrito even healthier, you may substitute brown rice or quinoa for white rice.
You can add chopped jalapeno peppers or spicy sauce to the filling for a hotter tortilla.
If you prefer a more subtle flavor, you can forgo the spices and simply season the fish with salt and pepper.
To make the burritos vegetarian or vegan, simply omit the fish and replace it with roasted veggies or tofu.
If you're short on time, you can use frozen fish fillets that have already been cooked and only need to be reheated in the oven or microwave.
You can add guacamole or sliced avocado to the filling of your burrito to make it even more filling.
Remember that the beauty of burritos is their adaptability, so feel free to experiment with various ingredients and flavors until you find the ideal combination.